East Troy Radiant Floor Heating Services
Serving East Troy, Walworth County, and Surrounding Areas
O'Leary Plumbing, Heating & Electrical is proud to be the leading East Troy HVAC service company to offer fast and reliable installation of radiant in-floor heating. Since 1958, our highly trained team of technicians has provided countless installation services of this type of heating system to residents as well as some commercial spaces in the area. One of our owners, Kevin O'Leary, is a Certified Hydronic Designer who designs award-winning system layouts using state-of-the-art computer design techniques and cost-effective installation methods. Kevin will partner with you to determine if in-floor tubing, slim baseboard radiators, or decorative wall panels are right for your home project.
---
Call us at (262) 314-4566 to get started with a free estimate for a radiant in-floor heating system!
---
How Radiant Heat Works
If you're buying, building or renovating the home of your dreams, don't overlook the heating system that offers ultimate comfort: radiant in-floor heating. Radiant heat circulates warm water from your boiler through tubing located beneath the floor, walls or ceiling to radiate heat outward. It warms the interior surfaces of the room, not the air, creating a feeling similar to sitting in the sun on a summer day.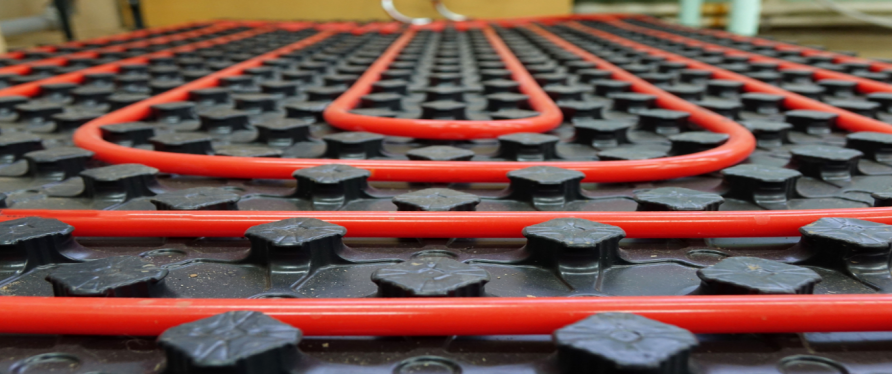 Why You Should Consider In-Floor Radiant Heating Installation
Radiant floor heating works great with open floor plans, especially in areas with high ceilings and rooms with large windows, bathrooms, finished basements and garage workspaces. It's economical and can help reduce energy costs while providing a healthy, clean and quiet system.
What are the benefits of in-floor radiant heat?
Unlike forced air systems wherein heat quickly rises to the ceiling, this type of heating system radiates heat from the floor, delivering the heat evenly throughout the rooms
Quiet to operate
No unsightly vents
Can reduce energy costs by 10 to 40 percent
Reduces presence of dust, pollen, and germs that are prevalent in forced air systems
Works in most types of floorings including wood, tile, or uncovered concrete floors
Increases moisture in your indoor air
Opt for a Heating System That Offers Ultimate Comfort!
If you want your radiant in-floor heating system to be installed correctly the first time, contact O'Leary Plumbing, Heating & Electrical! In 2005, Kevin and his Heating Division team won second place in a competition organized by Radiant Panel Association in the Retrofit Division for the work done here at the Canning Summer Home.
Our radiant heating services are available in:
East Troy
And the surrounding areas
---
Give us a call at (262) 314-4566 or contact us online to get started with a free estimate!
---

Licensed, Bonded & Insured

Don't gamble with your property. Trust our licensed, bonded and insured technicians to take care of your home.

Our family owned and operated company has been serving East Troy & the surrounding areas for three generations.

Backed by Over 60 Years of Experience

Our seasoned technicians have the skills, experience, and follow-through to complete even the most complex repairs.

24/7 Emergency Services Available

Day or night, our friendly technicians and staff are here to provide top-tier heating, plumbing, or cooling solutions.
Looking for Something Else?