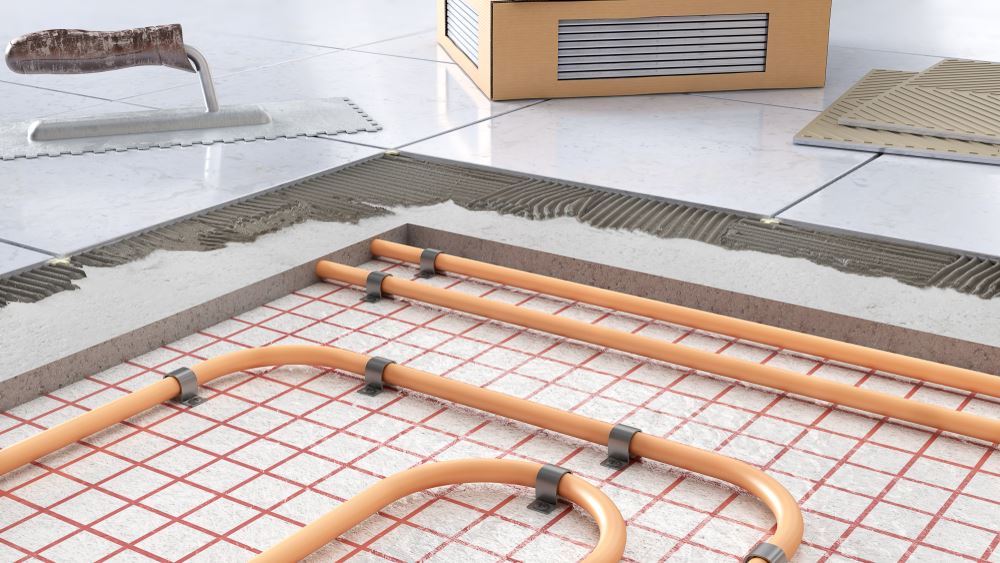 Warm the Home from the Bottom, Up!
When thinking about heating and cooling your home, it can be easy to go with the standard HVAC system that most homes nowadays have. While these are great systems that get the job done just fine, they are not the only heating and cooling systems on the market!
If you're buying or renovating your home, or your current HVAC system is due for a replacement, the team at O'Leary Plumbing, Heating & Electrical encourages you to consider all your options for a new system, including in-floor radiant heating. Let's discover what radiant heating is and why it could be a great choice for your home.
What is Radiant Heating?
In-floor radiant heating is comprised of a system of tubes installed under your floors. The tubes emit heat which naturally radiates through the room, heating it from floor to ceiling. The heat can be created through water or electricity.
Energy Efficiency
One of the greatest advantages of radiant heating is the level of efficiency it provides your home. Radiant heat eliminates duct losses as the warm air does not need to travel through a network of ducts to warm a room.
It also takes less energy to heat the home at the same level as a furnace does. A traditional furnace requires a high temperature of 149-167 degrees to heat up a room, while a radiant floor only needs to run at about 84 degrees to do the same. Ultimately, the less energy you use, the more you'll save on your utility bills, between 10-40%!
Even Heating
In traditional systems, the warm air is being pushed out of one or two vents in a room. If the vents are over your head, the air is likely not reaching down to the floor as warm air rises. This causes different parts of the room to be warmer or cooler than the rest.
With radiant heating, the warmth comes from across the entire floor and rises, leaving you with an even temperature room. You'll no longer experience cold spots or gaps in warmth.
Low Maintenance
Your radiant heating system will most likely not require much maintenance. Unlike traditional systems, you won't have ductwork to schedule cleanings for or air filters that require frequent changing.
Instead, you'll simply give your radiant floor experts a call about once a year for a quick inspection to make sure everything is working at its best.
Versatility
Something that many people may not know is that radiant floor heating is extremely versatile. It can be installed beneath most types of flooring including:
Wood
Tile
Concrete
Carpet
Laminate
Even if you wanted some help keeping your home clear of snow, radiant heating can be installed underneath your driveway or on a pathway.
Safety and Comfort
Radiators often have sharp edges or hot surfaces that can be dangerous for young ones. You can eliminate these hazards with the radiant floor heating system. It will all be tucked away, out of sight and out of mind.
Additionally, taking ductwork out of the equation also eliminates some airborne contaminants. Your air should increase in quality without the presence of dust mites, pollen, and even mold spores.
Traditional systems remove a lot of moisture from the air as they warm your home, creating the need for humidifiers to keep the air moist and your family comfortable. No longer worry about dry air when you have a radiant heating system, as the tubing will not remove moisture from the home.
Radiant In-Floor Heating in East Troy, WI
The team at O'Leary Plumbing, Heating & Electrical has been perfecting our radiant heating installations since 1958 and we're ready for your home to be our next project. If you want to learn more about radiant heating, or are ready to book your appointment, give us a call at (262) 314-4566!